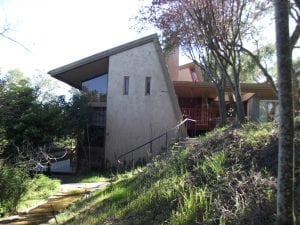 Nearly five years ago our family move to Northern California from the Midwest and by luck, found a gem of a house that had been neglected and vacant for nearly two years. The inside had been stripped of everything including the copper plumbing, light fixtures, plumbing fixtures and even the toilet roll holders. Sinks had been cracked and granite counters had been smashed, but we didn't care. We were desperate to find a place to live and believe it or not, this was the best house we had seen in our price range.
The house was built by two architects who studied at Taliesin West, Frank Lloyd Wright's home and school for architecture. They built the home for themselves and it is a one-of-a-kind home with no blueprints and 17 degree angles all over the show. It is wacky and weird, so of course even with all of the neglect and damage, it was perfect for our family. The first few years I worked on the inside of the house with very little money (California real estate compared to the Midwest is the greatest of sticker shock) and finally this spring I was finally ready to tackle the extensive gardens.
According to neighbors, at one time the gardens were beautiful. There were decomposed granite paths with concrete curbs running all through the nearly acre of property. Unfortunately, neglect and a 10 year drought took its toll on the gardens. What had survived, didn't look healthy, happy or make any sense design wise. It took me years to figure out what to do with all of the empty desolate gardens. I finally found my inspiration without even looking for it. It just happened by chance, which is in my mind, the best way.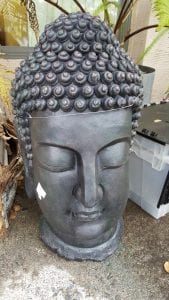 I found a large fiberglass Buddha head at Homegoods. I knew I could turn it into a fountain by drilling a couple holes and inserting a pump. For the base, I remembered some beautiful basins I saw at an antique shop nearby. The owner and I could never agree on a price, but since it had been over two years and he still had them, I figured I had negotiating power. It turns out I was right! I scored the head and the basin for $180. We (the guys that helped me get the monster basin out of the van) placed the basin by the front gate to greet everyone who visits. Then I converted the solid head into a fountain, ran some electrical from the outside of the house, and as soon as the water started to flow, the whole garden started to come together in my head.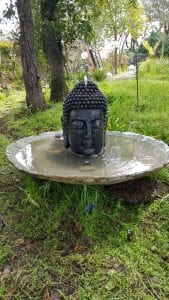 I started by pulling weeds for about two weeks. Yes, my knees are shot.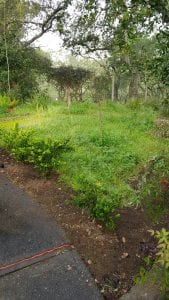 We finally had rain this winter and the weeds were epic. I decided to create my version of a zen garden. I purchased 30 Blue Fescue grasses and a beat up peeling pink painted Ikea hanging chair from a flea market for $20. I cleaned it and painted it the original blue. I found a tree friendly strap on Amazon to hang the chair for another $20, dug a circle about three inches deep for a gravel base under the chair and I was cooking with gas. I hung the swing and planted the grasses in rows. I added a few succulents, agave plants and calla lilies near the fountain. The end result is a calming retreat and a beautiful entrance to the house far more fitting than the weeds and dead plants that used to greet everyone.
My point today, however windy and round about it may be, is that inspiration can come from anywhere. I was so frustrated for years not knowing where to start or what to do in this garden and when I least expected it and I will assume that the time was right, there it was. It has been the jumping off point for the rest of the garden. I made a promise to myself that I will spend a minimum of two hours in the garden every day whether it is watering, pruning or planting. It is working well and the other beds throughout the pathways are coming together as well. I will keep you posted as they evolve.