I'm sure that many of you suffer from the same thing I did when my husband and I bought our home; the "boring powder room disease." Sure, beige has its place, but that place is not all over my home and in the tiniest of powder rooms. The beige powder room has a white "Carrara" porcelain tile on the floor, white pedestal sink (I find no purpose for pedestal sinks) and a white toilet.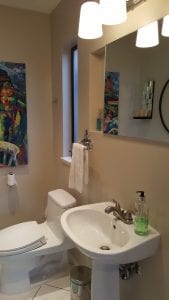 Blah didn't even come close to my reaction every time I walked into that room.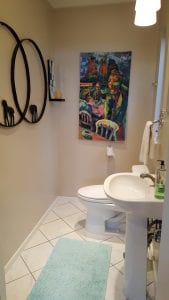 Our powder room is right off the front entrance to our home. It is the first room people see when they arrive and  where guests go to do whatever it is they do in there. This room was certainly not a reflection of the crazy, fun and slightly annoying family that lives here. I knew I needed to do something about it. Not because it was not functional or because it was dated, I needed to do something about it because I just hated it. I can't think of any better reason.
After four years of avoiding that powder room, I finally found my inspiration for the makeover. I happened across a website that was having a 90 percent off sale in their discount section www.stevesblindsandwallpaper.com and found Graham and Brown's "Romance Black and Pink" wallpaper  for
$1.99 per roll with free shipping! Don't be afraid of wallpaper, the manufacturers have come a long way since the 1970s. The papers and pastes are higher quality and are more easily removable if your walls have been primed and painted. I have been wallpapering with my Mom since I was a kid and the wallpaper of today is a joy to work with in comparison. If you are fearful of commitment to a wallpaper, the powder room is a perfect place to experiment.
I was working on a very tight budget of nearly $0 but that didn't stop me. I ordered way more wallpaper than I needed and still only spent $20. The next thing I knew I had to tackle was the dreaded pedestal sink. I know the dreaded pedestal sink was chosen for a good reason, the bathroom measures 45 x 72 inches with the sink and toilet on the same wall. I knew finding the vanity would be a challenge and an expense. However, what was not expensive was the Kohler sink, faucet, drain and P-trap. I picked up a bunch of items from the annual Kohler sale in Kohler, Wisconsin before we moved. You better believe my toilets (yes, toilets plural), sinks, faucets, showerheads, towel bars and toilet roll holders all moved with me! I had visions of my Kohler "Artist Series Empress Bouquet" Conical Bell vessel sink I picked up on the last day of the sale for $50 http://www.us.kohler.com/us/Empress-Bouquet-on-Conical-Bell-Vessel-bathroom-sink/productDetail/bathroom-sinks/428030.htm  in that bathroom with the wallpaper.
Along with the sink, I had a Purist Tall Single-hole faucet ($75 at sale), Kohler K-7129-A decorative grid drain ($10 at sale), and a K-9033-CP Bottle Trap ($20 at sale) instead of a traditional P-trap as the bottle trap is better looking and it would be exposed under the vanity. With all of my pretty Kohler items on hand, I figured I could do a pretty fine transformation for very little cash. The most difficult part was finding a vanity that could fit in the small space and had enough surface area to accommodate my sink. Months of searching online and in stores yielded nothing. Then while at the Alameda Antiques Fair with my family and dear friends who were visiting over my birthday, there it was. An unassuming little brown table stuck out in the rain with four legs and a drawer for $40.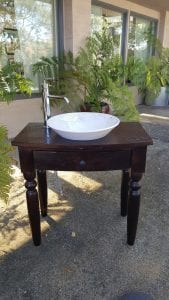 Transforming the table into a vanity was pretty easy. I used my two inch hole saw for the sink drain and the faucet. I then made a cutout in the drawer for the drain and used some scrap wood to box in the hole so the drawer could still be functional. After strengthening the drawer with some finishing nails and screws, I painted the scrap wood I used black to blend in with the dark stain of the table. I dry fitted the sink and faucet, then attached all of the plumbing to ensure a proper fit before tightening and sealing everything. I removed the vanity for the wallpapering as reinstallation would be a piece of cake.
The wallpaper went up but it was tight to work in such a small space. The vanity went back in, I put up a vintage gilded Regency mirror my friend had given me years ago to complement the over-the-top wallpaper.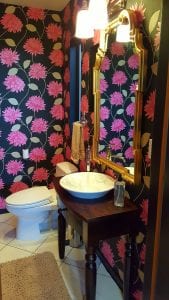 Once everything was in, the white trim stuck out like a sore thumb. I grabbed some black paint and painted the door and trim. Ahhh…my project was complete.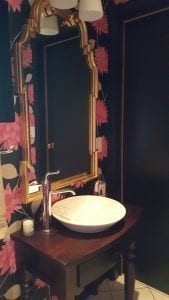 The powder room went from the room nobody wanted to use, to the room everyone wanted to experience. It was cold and boring and now it is warm and fun (and a little annoying to some). Sure, the room is a different style from any other room in the house, so what? Why not have some fun with that little forgotten room? Make it a room your guests will never forget!