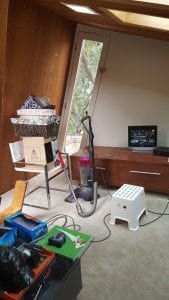 Every parent has this nightmare in some way, shape or form. One day you are playing peek-a-boo with your little one, and seemingly the next day she is asking you to go bra shopping and she wants to get rid of all her dolls and toys. What is happening?!?! I had this experience recently. My daughter asked me to turn her playroom/loft into a reading/hang out room. Okay, it could be worse, she could have asked for a gaming or Bieber themed room. Yes, she is a bit of a nerd (thank goodness) but it still hurt.
The loft is an odd shape and size. It has one 17 degree angled wall, and two half walls (one overlooking the dining and living room, one overlooking the kitchen sink area), that leaves only one semi-normal wall. The floor is carpeted and has the opening for the ladder cut into it. Two angular windows (one of which is roof access) and two skylights finish off the room.
The first task was to clear out all of the "kid" stuff and go through endless American Girl and Barbie outfits. This was taxing on both of us. Letting go of the plush stuffed animals was the hardest for her. Once that was done, we cleaned up and I took a trip to Ikea. Nobody does cost effective shelving and storage like Ikea. I took my measurements and a briefing from my daughter and bought three Kallax bookcases that I thought would fit into the weird loft space. I then headed to Homegoods and found a rug, hanging lamp and accessories to decorate the space. The hardest part was to find items that weren't too young and not too fuddy-duddy. I hit it on a great day, I found nearly everything I needed in the clearance areas including a huge wall clock for the semi-normal wall!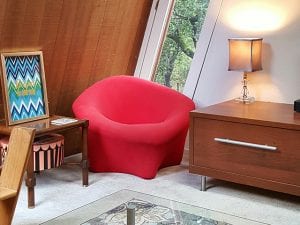 I needed to incorporate her existing pink beanbag, my sisters' vintage 1970's red chair, my 1950's daybed and still make it look sophisticated for a 13 year old and her friends. To do this, I happened to find a rug on clearance for $12 that had dark blue, gray, beige and pink. I then looked on Amazon and found pillow covers two graphic and two colorful skull covers. They were very reasonable and it was the perfect way to tie everything together.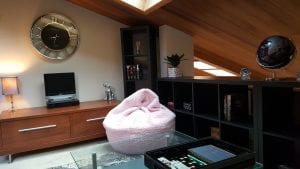 She was ecstatic when she came home from school and it was finished. Apparently it was not too masculine or girly, it was just right. Whew! I never get ANYTHING right with this 13 year old!
By using most everything that we already had in the loft, I was able to keep the cost down to under $400 for the entire makeover. Even though none of the furniture matched and was from different eras, I was able to tie everything together with the accessories and the dark cabinetry. Black goes a very long way in design. It is warm and neutral believe it or not and that is what saved this room from needing a total and expensive makeover.